SCRATCHING THE SURFACE OF A DAMNED SPOT IS AN ACT OF INTERROGATION
Sound and Video installation, 2023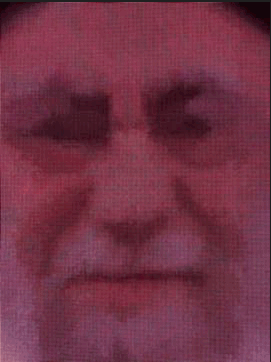 In an attempt to echo the revolutionary protests in Iran, Kurdistan and Balochistan, SCRATCHING THE SURFACE OF A DAMNED SPOT IS AN ACT OF INTERROGATION focuses on the outpouring of anger and fear over government repression, violence, and faltering economy.
At transmediale warehouse, a monologue can be seen and heard as a religious individual recalls his psychosis-like experience that was triggered by a visit to a shrine. Recounting the experience, he conveys his feelings of self-hatred, guilt, and shame, as well as the powerlessness he experienced. Disorienting the listener, the hypnotizing and terrorizing effects of his psychosis lie at the center of Nazanin Noori's newest installation, an absurdified depiction of patriarchy and a commentary on devastating systemic oppression. Reminding us that the echo of protest is distant to the protest, Noori attempts to understand what it might mean to observe, act, and participate across temporalities and geographies.
To view the installation, find your ticket on eBay Kleinanzeigen for free. The location of the installation is transmediale warehouse.
Nazanin Noori
's work is comprised of music, text, radio plays, and theatre work.